The parliamentary commission for strategic development, science, higher education and innovation policy supported the governor's decision to assign international status to the UNOVUS Tomsk Forum of Young Scientists, and advised the Oblast administration to consider this fact when preparing the regional budget for the upcoming year.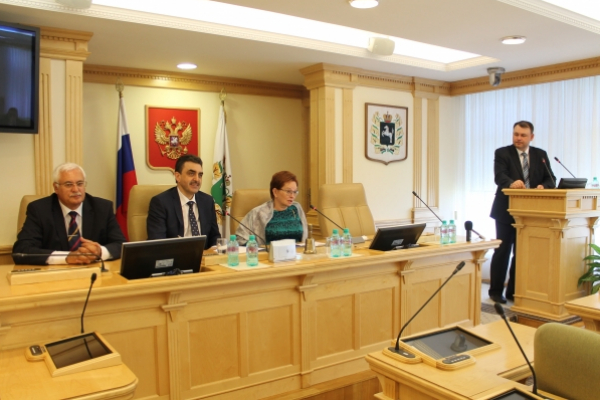 A total of 22 thousand people took part in the 4th UNOVUS Tomsk Forum of Young Scientists in 2017. A federal agenda was created for the first time as part of the Forum, where the scientific and technology project session was the central event. An emphasis on the current generation of schoolchildren was also made for the first time. The results of the 4th Forum were discussed by members of the permanent Duma commission for strategic development, science, higher education and innovation policy.
"This year the Forum made the federal agenda, which is a serious breakthrough. However, our potential enables us to hold the Forum at an even higher level," said Eduard Galazhinsky, Chairman of the Commission and Rector of Scientific Research Tomsk State University. "If we want the Forum to be relevant in the long-term, we must develop its content every year. This is particularly important for events at these high levels."
The deputy also mentioned that if we are speaking about forums in an international context, we should start inviting leading experts even now, including from abroad. Oksana Kozlovskaya, the speaker of the regional parliament, noted that the matter of financing should not be postponed either:
"There is every reason to boast that UNOVUS continues to grow year after year. Its status and recognition are clear in today's context. We should advise the administration of Tomsk Oblast as they are approving the budget for 2018–2020 to make provisions for the forum's international status as part of the financing program."
The crux of the matter is that "international" status entails an increase in expenses for its organization and holding. This year the forum's budget totalled 38 million rubles, of which 28 million was allocated from the regional budget and 10 million was provided by sponsors. Dmitry Son, the representative of the operator of the UNOVUS 4th Tomsk Forum of Young Scientists, explained that about 50–60 million rubles would be needed to hold the forum at the international level. The commission members suggested pursuing a 50/50 co-financing level.
In the course of discussion, the speaker also suggested expanding the list of venues for holding the forum.