Meeting of Legislators with the President of Russia
Oksana Kozlovskaya, Chairperson of the Legislative Duma of Tomsk Oblast, spoke about the main results of the meeting of the members of the Council of Legislators of Russia with Vladimir Putin in the Tavrichesky Palace of St. Petersburg.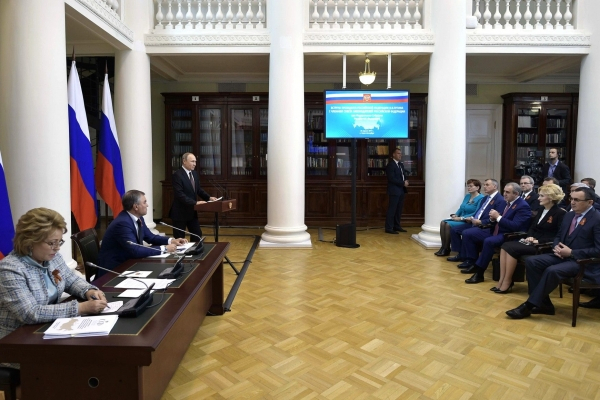 "Such meetings, dedicated to the Day of Russian Parliamentarism, have already become their own tradition. They're a communication platform where speakers of regional legislative authorities may put questions directly to the head of the state, and receive answers in real time. But the main thing we see is that these meetings are always followed by specific actions. The President gives an official instruction for each of the proposals introduced by members of the Council of Legislators to improve federal laws. Federal ministries and departments are then held accountable to them," Oksana Kozlovskaya emphasized.
According to the speaker from Tomsk, the issues to be raised by the regional legislators with the head of the state were preliminarily discussed in the parliamentary community in order to single out problems concerning all the regions.
"In particular, there were proposed stepping up requirements for the registration of immigrants," Oksana Kozlovskaya explained. "A minimum amount of residential area of the premises must be established for the registration of an individual at a place of residence. Certain prohibitions must be introduced for registration at the place of location of a business entity. Criminal liability for fictitious registration must be established as well. Vladimir Putin called for work on elaborating the relevant legislative initiatives.
The President also supported the proposals of regional parliamentarians to hear the reports of regional branches of federal entities at meetings, and to publish information of law enforcement officials on measures taken based on the results of control and accounting agency inspections the proposals.
Another two important issues are offering legal status to school doctors in order to equate their rights with teacher rights, and reinstating co-financing for children's recreation from the federal budget for families in need (approximately 5 billion rubles nationally). I really hope this issue will be considered soon, as it's pressing for us as well."